President Donald J. Trump
Donald John Trump (born June 14, 1946) is the 45th and current President of the United States. Before entering politics, he was a businessman and television personality.
Trump was born and raised in the New York City borough of Queens, and received an economics degree from the Wharton School of the University of Pennsylvania. He took charge of his family's real estate business in 1971, renamed it to The Trump Organization, and expanded it into Manhattan. The company built or renovated skyscrapers, hotels, casinos, and golf courses. Trump later started various side ventures, including licensing his name for real estate and consumer products. He managed the company until his 2017 inauguration. He co-authored several books, including The Art of the Deal. He owned the Miss Universe and Miss USA beauty pageants from 1996 to 2015, and he produced and hosted the reality television show The Apprentice from 2003 to 2015. Forbes estimates his net worth to be $3.1 billion.
"We hold these truths to be self-evident, that all men are created equal, that they are endowed by their Creator with certain unalienable Rights, that among these are Life, Liberty and the pursuit of Happiness."
– Thomas Jefferson, Declaration of Independence, 1776
"I am well aware of the Toil and Blood and Treasure that it will cost us to maintain this Declaration, and support and defend these States. Yet through all the Gloom I can see the Rays of ravishing Light and Glory. I can see that the End is more than worth all the Means. And that Posterity will triumph in that Day's Transaction." 
– John Adams, letter to his wife Abigail, 1776
"We have abundant reason to rejoice, that, in this land, the light of truth and reason has triumphed over the power of bigotry and superstition, and that every person may here worship God according to the dictates of his own heart."
– George Washington, Letter to the members of The New Church in Baltimore, 1793
"It is rather for us to be here dedicated to the great task remaining before us — that from these honored dead we take increased devotion to that cause for which they gave the last full measure of devotion — that we here highly resolve that these dead shall not have died in vain — that this nation, under God, shall have a new birth of freedom — and that government of the people, by the people, for the people, shall not perish from the earth."
– Abraham Lincoln, Gettysburg Address, 1863
"You know that being an American is more than a matter of where your parents came from. It is a belief that all men are created free and equal and that everyone deserves an even break."
– Harry S. Truman, South Bend Indiana, 1948
"My fellow Americans, ask not what your country can do for you, ask what you can do for your country." 
– John F. Kennedy, Inaugural Address, 1961
Government's first duty is to protect the people, not run their lives.
– Ronald Reagan
"I've spoken of the shining city all my political life, but I don't know if I ever quite communicated what I saw when I said it. But in my mind it was a tall proud city built on rocks stronger than oceans, wind-swept, God-blessed, and teeming with people of all kinds living in harmony and peace, a city with free ports that hummed with commerce and creativity, and if there had to be city walls, the walls had doors and the doors were open to anyone with the will and the heart to get here." 
– Ronald Reagan, Farewell Address, 1989
Government is like a baby. An alimentary canal with a big appetite at one end and no sense of responsibility at the other.
– Ronald Reagan
"The most terrifying words in the English language are: I'm from the government and I'm here to help."
– Ronald Reagan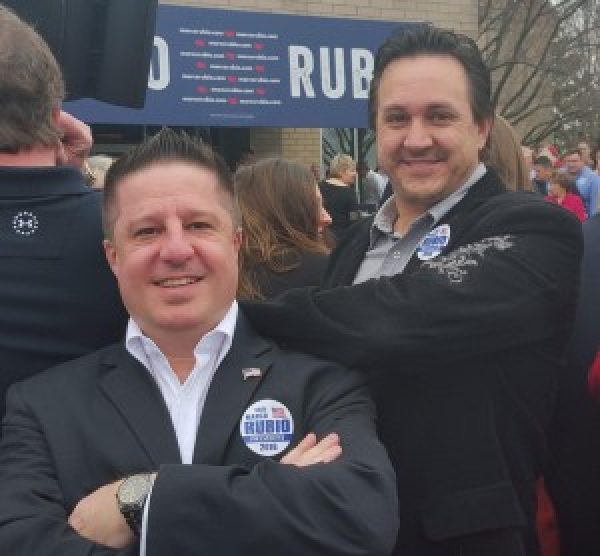 Co-Founders
JP Dovalle & Paul Loggins